Live Poker. 

Reinvented.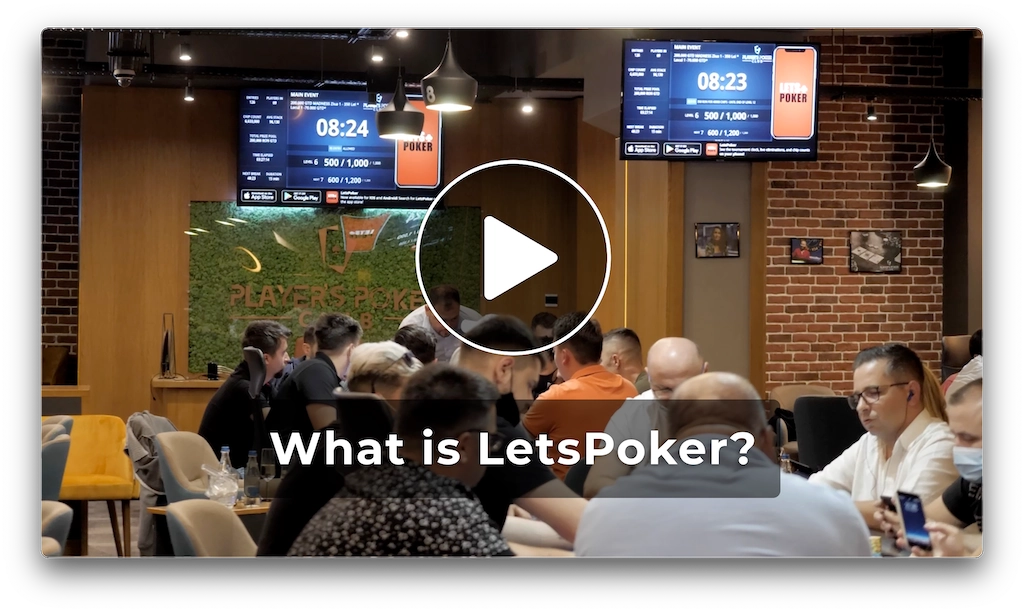 Featured at poker festivals from: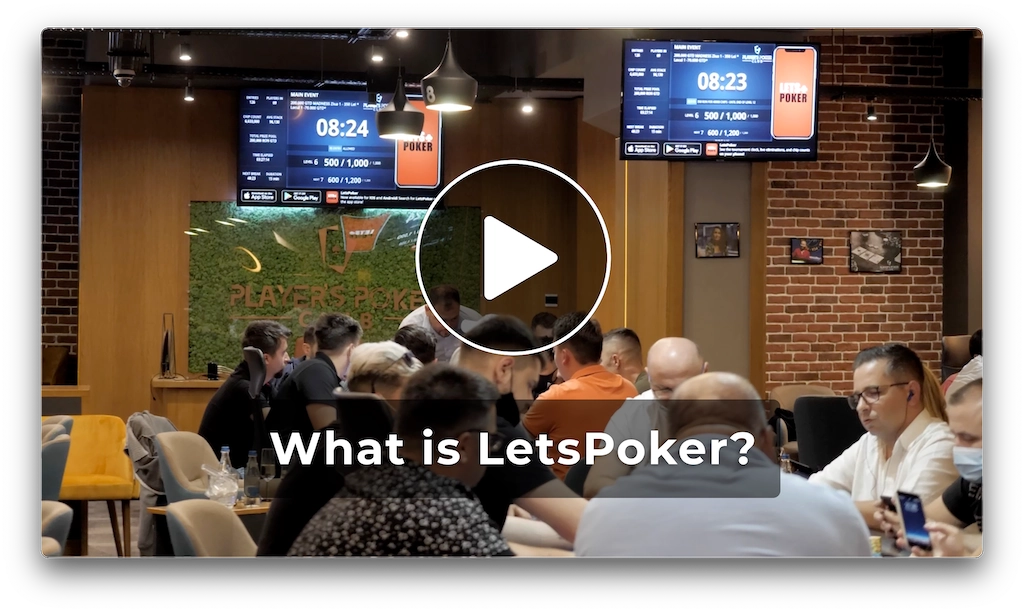 LetsPoker App
First class smartphone app for poker players
• • •

Poker tournaments near you

Or bigger events further away

Find out about upcoming poker events through the tournament calendar feature.

• • •

Complete information

For Poker Pros and Amateurs alike

Discover up-to-date event schedules, rules, blind and prize structures, cash game tables and much more.

• • •

Tournament clock on your phone

In real time — Always in your pocket

If you have always wanted to know exactly how much time you have left from a tournament break or how many players are left, now you can.

• • •

Live updates

Follow your friends, or let them follow you

Real-time tournament standings and chip count updates for players at every break. See when your friend busted out of a tournament, or if they made the final table.

• • •

Connect with poker clubs

Chat in real-time with your favorite club

Order food and drinks, sign up for waiting lists, ask about tournaments or cash games, and anything else you can think of.
LetsPoker Platform
LetsPoker Administrator - Secure Cloud-Hosted Poker Club Management Software
• • •

Greatly boost player satisfaction

Ties into the LetsPoker app

Players can check schedules and structures in the app, and follow your events in real time.

• • •

Business intelligence

Accessible remotely with full security

Analyze and get insights on how to optimize your club with comprehensive reporting features.

• • •

Real-time collaboration

For innovative new events

Collaborate with other team members on last minute changes, from anywhere in the world.

• • •

For both Poker Clubs and Circuits

Everything you need is included

The complete solution for poker clubs, poker festival organizers or cash game circuits.

• • •

From big to small

Any size of poker organizer is welcome

The platform is designed for events ranging from 2 players to 10 000 and more.

• • •

Use existing infrastructure

No additional equipment purchase required

Runs on any modern device: Windows, macOS, Linux, smartphones, tablets, and even smart TVs.

• • •

Your data is protected

Never worry about data loss again

Your data is encrypted, secured, and continuously backed up.

• • •

Significantly reduce costs

More efficient use of resources

Reduce operational overhead and IT maintenance costs.
Why choose LetsPoker for your poker events
Are you a poker festival organizer looking to impress your players at your next event?
Or are you the manager of a poker club and want to increase player satisfaction while improving your marketing in the process?
Here is why LetsPoker is exactly what you need.
Ramp-up your Poker Event Marketing

Thousands of active poker players can follow your events on the LetsPoker app

Increase the number of entries by displaying real-time information about your ongoing events, number of entries, current blind level, prize pools, late tournament entry deadline, and more on the LetsPoker app.

Announce your cash games, tournaments, and festival schedules with complete information on every single aspect that might be of interest to players.

Generate more revenue by providing a better and more professional experience for your players with our software and app.

Trusted by Top Tier Poker Festival Organizers

Our portfolio includes events from PokerStars, 888LIVE and Unibet Open

We have worked with some of the biggest poker promoters in the world.

Our software has been successfully used for international poker festivals organized in cooperation with PokerStars, 888LIVE, Unibet Open, and many others.

Unmatched Transparency for Players

Show your players that you value transparency, and prove it

Our platform tracks player registrations, rebuys, add-ons, and eliminations, broadcasting everything that happens in the card room to everyone in the world in real-time.

Players can see every buyin and rebuy as soon as it happens. Player counts and prize pools are updated instantly.

Every action taken by tournament staff is recorded, time-stamped, and can be reviewed later by management if needed.

Unmatched Player Loyalty and Satisfaction Rates

Players absolutely love the LetsPoker app

More than 50% of LetsPoker users open the app more than 100 times per month and 98% of them are returning users.

Players love the app because it makes live poker more interesting, competitive, social and fun.

As a result, the app creates a lot of buzz around events and attracts many new players to the ecosystem.

Rated 4.9 / 5 on the Apple App Store

Rated 4.8 / 5 on the Google Play Store

Collaborate on Your Events Like Never Before

If you have ever wanted to make last-minute changes remotely, now you can

As a club owner or poker manager, you can access your club remotely from anywhere in the world and keep an eye on what the Tournament/Cash staff is doing at all times.

Work with your team to adjust event schedules, buy-ins, blinds and prize structures even while you are not on site.

Get feedback from players on how to improve your events via the in-app messaging feature.

Engage players with push notifications

Players can subscribe to new events, scheduling changes, or cash table updates

Use our platform to send push notifications for new tournaments and cash games and increase participation in your poker room for daily tournaments and especially larger events.

Announce potential prize pool overlays with emergency notifications. Our customers have saved hundreds of thousands in overlay costs using this feature.

Staff can focus on what matters

Significantly reduce the logistical costs of running a successful tournament

After using LetsPoker, our clients have been able to reduce their staffing requirements by up to 50%.

Floor staff no longer have to worry about recording players' eliminations, their rebuys and add-ons, or manually breaking up tables.

Our innovative Android tablet-on-table module allows dealers to do this themselves.

Data Protection as a Priority

We take care of backups so you do not have to worry about data loss

Protecting your data is our main concern at LetsPoker.

Our poker club management software complies with the GDPR and players have the freedom to set themselves as private if they wish.

We use two-factor authentication to ensure that your information is never lost, misused, or accessed without your consent.

Evergreen System

LetsPoker is under constant development

The LetsPoker platform has been in active use since 2016.

A dedicated team keeps systems updated, efficient, and always functioning optimally to ensure a smooth experience.

Through regular updates, LetsPoker allows both players and organizers to enjoy a constant stream of new and exciting features.
LetsPoker Platform Features
Registrations and Check-In

Stay in compliance

Register players in a database, take their picture, and store additional data about your customers if required by local law.

Multi-user cloud software

Add and remove access rights with just a few clicks

Restrict access to sensitive data to specific team members. Allow access to your statistics remotely so you can analyze them from anywhere.

Tournament Management

Best in class, usable from a variety of smart devices

Includes player registrations, tournament receipt printing, player database with photos, tournament clock, full player tracking, and much more

Cash Game Management

Comprehensive business intelligence tools included

Poker managers now have the ability to historically analyze data to optimize cash games for their club.

Tablet device on each poker table

It can also serve as a shot clock.

State-of-the-art technology allows the optional use of an inexpensive Android tablet for dealers to record player eliminations or other actions.

Modern and Professional Look

Impress your players with true professionalism

Our software is modern, good looking, features an animated tournament clock and was developed with the latest technology.
Meet Our Team
Andrei Alecu
CEO and Founder
Software Architect
Poker Enthusiast
Andrei started programming at the age of seven and at the age of 15 he started freelancing, developing software for international clients.
Andrei's first completed software package was used at Alcatel Lucent, PricewaterhouseCoopers, and several other Fortune 500 companies.
He is also a recreational poker player and entrepreneur.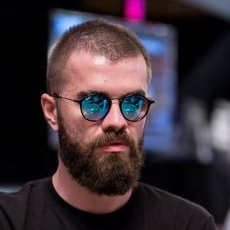 Alex Papazian
Co-founder
Chief Growth Officer
Professional Poker Player
Alexandru is a two time World Series of Poker Bracelet Winner – one of the most prestigious and rare accomplishments in the world of poker and is ranked #1 on the Romanian all-time money list.
Thanks to his understanding of the community, Alexandru helps improve LetsPoker for both players and organizers respectively.
Are you ready to get started?
We have worked closely with poker clubs over the past few years and know how important it is to find new ways to connect with players.
At LetsPoker, we firmly believe that we can increase attendance at your events while giving back to the poker players who make it all possible.
We are so confident in our offering that our subscription packages come with a 45-day money back guarantee.
Please fill out the form and we will get back to you as soon as possible to schedule a free consultation and demo of our platform.
Please contact us at contact@lets.poker and we will get back to you as soon as possible to schedule a free consultation and demo of our platform.
© 2022 • LetsPoker Solutions