Live Poker. 

Reinvented.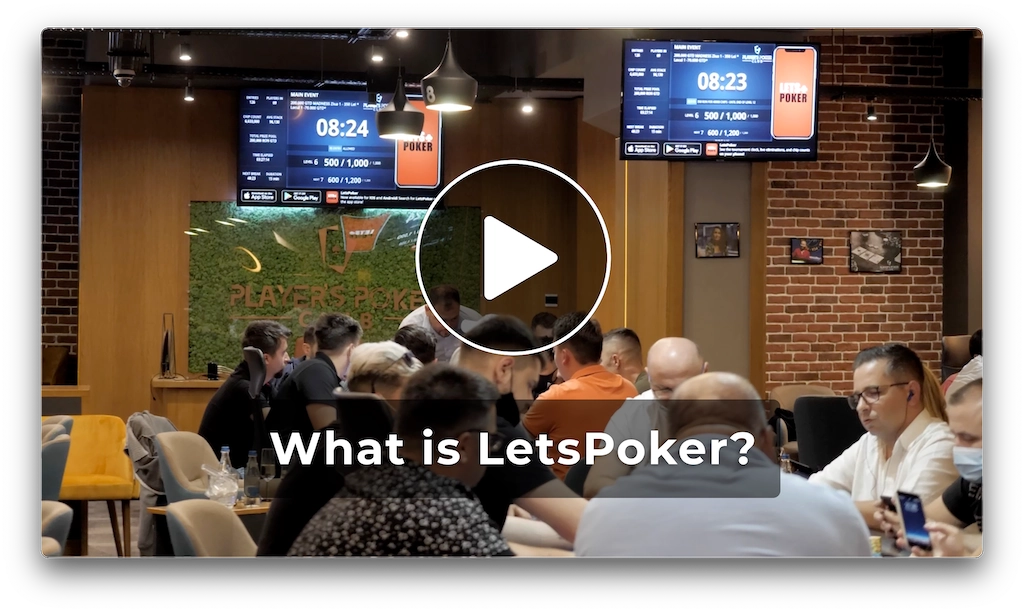 LetsPoker is here to revolutionize the world of live poker.
Experience the power of our cloud-based poker room management software and elevate your poker events like never before.
Increase engagement, optimize operations, and create unforgettable experiences with the LetsPoker app.
Featured at poker festivals from: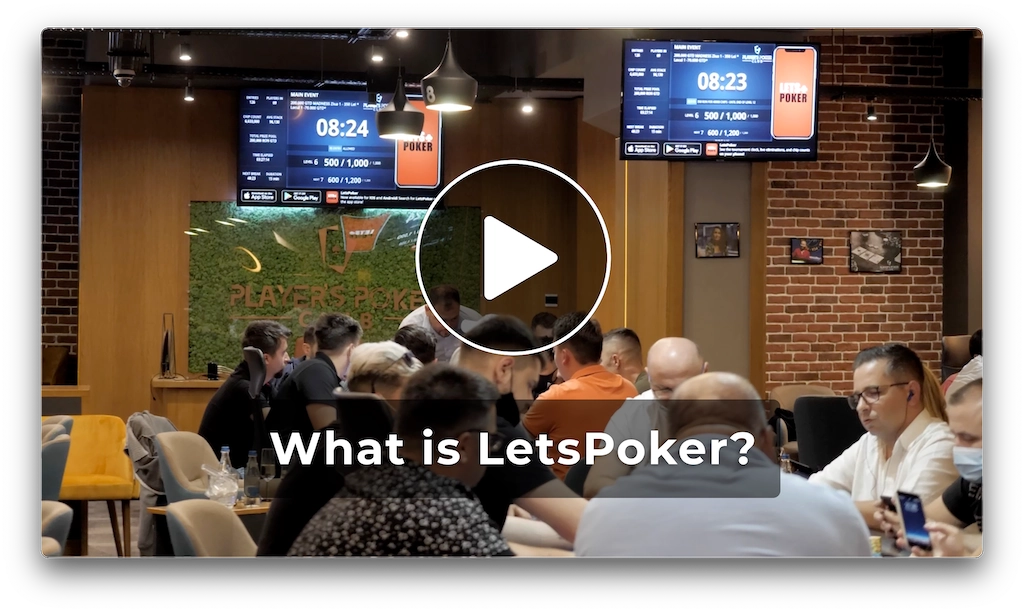 LetsPoker App
Best-in-Class Smartphone App for Live Poker Players
• • •

DISCOVER POKER TOURNAMENTS

Local games or prestigious events worldwide

Explore upcoming poker events in your area or across the globe with our user-friendly tournament calendar feature.

• • •

COMPREHENSIVE INFORMATION

For Poker Pros and Enthusiasts alike

Access up-to-date event schedules, rules, blind structures, prize pools, cash game tables, and more, all in one place.

• • •

TOURNAMENT CLOCK AT YOUR FINGERTIPS

Real-time updates – Always in your pocket

Stay informed about remaining tournament break time or the number of players left, anytime and anywhere.

• • •

LIVE TOURNAMENT UPDATES

Track your friends' progress or share your own

Receive real-time tournament standings and chip count updates for players during each break. Know when your friend busts out or makes it to the final table.

• • •

Connect with poker clubs

Engage in real-time conversations

Order food and beverages, join waiting lists, inquire about tournaments or cash games, and more through seamless communication.

• • •

Free download

Available for iOS and Android
LetsPoker Platform
LetsPoker Administrator - Comprehensive Cloud-Based Poker Room Management Software
• • •

Enhance Player Experience

Get listed on the LetsPoker App!

Players can access schedules, structures, and follow live events seamlessly in the

LetsPoker App

.

• • •

Data-Driven Insights

Secure Remote Access

Optimize your poker club with detailed reporting features and insightful analytics.

• • •

Poker Tournament Software

Tournament Clocks, Management, and More

Manage poker tournaments with ease using our full-featured best-in-class poker tournament software.

• • •

Ideal for Poker Clubs and Circuits

All-Inclusive Solution

A comprehensive platform for poker clubs, festival organizers, and cash game circuits.

• • •

Cash-Game Management

Manage Waiting Lists, Track Player Statistics, and More

Manage cash games and waiting lists with ease using our full-featured cash game management module.

• • •

Leverage Existing Infrastructure

No Additional Equipment Necessary

Use LetsPoker on modern devices: Smartphones, Tablets, Windows, macOS, Linux, and smart TVs.

• • •

Robust Data Protection

Secure and Worry-Free

Data encryption, security, and continuous backups ensure peace of mind.

• • •

Reduce Operational Costs

Efficient Resource Management

Optimize staffing, infrastructure and IT costs. Increase your revenue.
Why Choose LetsPoker for Your Poker Events
Are you a live poker festival organizer seeking to captivate your players at your next event?
Or, are you a brick & mortar poker club manager aiming to boost player satisfaction while enhancing your marketing efforts?
Discover below why LetsPoker is the perfect solution for you and read our mission statement to learn more about our vision.
• • •

Amplify Your Poker Event Marketing

Engage thousands of active poker players with the LetsPoker app

• • •

Trusted by Elite Poker Festival Organizers

Clients include events from PokerStars, 888LIVE, and Unibet Open

We've collaborated with some of the most prominent poker event organizers globally.

Our poker tournament software has been successfully utilized for international poker festivals in partnership with PokerStars, 888LIVE, Unibet Open, and many others.

• • •

Unparalleled Transparency for Players

Demonstrate your commitment to transparency and integrity

Our live poker management platform tracks player registrations, rebuys, add-ons, and eliminations, broadcasting all card room activities in real-time to a global audience.

Players can view every buy-in and rebuy as they occur. Player counts and prize pools are updated instantly.

Every action taken by tournament staff is recorded, time-stamped, and can be reviewed later by poker room management if necessary

• • •

Exceptional Player Loyalty and Satisfaction

Players rave about the LetsPoker app experience

Over 50% of LetsPoker users open the app more than 100 times per month, and 98% are returning users.

Players adore the app for making live poker more engaging, competitive, social, and enjoyable.

Consequently, the app generates buzz around poker events and attracts numerous new players to the poker ecosystem.

• • •

Collaborate on Your Events with Unparalleled Ease

Effortlessly make last-minute changes remotely

As a poker club owner or poker room manager, remotely access your club from anywhere globally and monitor your Tournament and Cash staff's activities.

Coordinate with your team to adjust event schedules , buy-ins, blinds, and prize structures, even when off-site.

Receive player feedback on event improvement via the in-app messaging feature.

• • •

Boost Engagement with Push Notifications

Keep players informed with updates on events, scheduling changes, and cash table updates

Utilize our platform to send push notifications for new tournaments and cash games, increasing player participation in your poker room for daily tournaments and larger events.

Announce potential prize pool overlays with emergency notifications. Our clients have saved hundreds of thousands in overlay costs using this feature.

Players love the added value of being notified about potential prize pool overlays. It's a win-win for players and poker rooms alike!

• • •

Streamline Staff Operations

Reduce logistical costs and enhance tournament efficiency

Clients using LetsPoker have cut staffing requirements by up to 50%.

Floor staff can focus on what matters most, as they no longer need to record player eliminations, rebuys, add-ons, or manually manage tables.

Our innovative tablet-on-table module empowers dealers to handle these tasks with ease.

• • •

Data Security and Privacy

Safeguarding your data with GDPR compliance and regular backups

At LetsPoker, your data security is our top priority.

Our poker club management software is GDPR-compliant, and players can choose to set their profiles as private.

With two-factor authentication, you can trust that your information is protected and accessed only with your consent.

• • •

Continuously Evolving Platform

Ongoing development ensures an up-to-date and seamless experience

LetsPoker has been providing exceptional service since 2016.

Our dedicated team maintains system efficiency, security, and optimal performance for a smooth user experience.

Regular updates bring new and exciting features to both players and organizers, keeping LetsPoker at the forefront of the live poker industry.
Discover LetsPoker Platform Features
• • •

Efficient Registrations and Check-In

Ensure compliance and enhance customer management

Easily register players in a database, capture their photos, and store additional customer information as required by local regulations.

• • •

Flexible Multi-User Cloud Software

Customize access rights and manage data remotely

Control access to sensitive data for specific team members and review your statistics from anywhere, at any time.

• • •

Comprehensive Tournament Management

Optimized for a range of smart devices

Streamline player registration, receipt printing, photo database management, tournament clocks, player tracking, and more with our all-in-one solution.

• • •

Intelligent Cash Game Management

Utilize powerful business intelligence tools

Empower poker managers with historical data analysis to optimize cash game offerings for their clubs.

• • •

Tablet Device Integration

Enhance functionality with optional shot clock feature

Leverage state-of-the-art technology with an affordable Android tablet, allowing dealers to record player eliminations and other actions seamlessly.

• • •

Sleek and Professional Design

Elevate your poker events with cutting-edge technology

Impress your players with our modern, visually appealing software, featuring an animated tournament clock and developed using the latest technologies.
Meet the LetsPoker Founders
Andrei Alecu
CEO and Co-founder
Software Architect & Poker Enthusiast
Andrei began programming at age seven and started a software agency at 15, developing software for international clients. One of his first software packages was adopted by Alcatel Lucent, PricewaterhouseCoopers, and other Fortune 500 companies.
As a recreational poker player and entrepreneur, Andrei co-founded LetsPoker to combine his passions and bring innovative solutions to the poker community.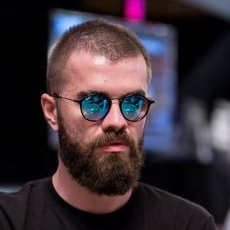 Alex Papazian
Co-founder and Advisor
Professional Poker Player
Alex is a two-time World Series of Poker Bracelet winner and ranks #1 on the Romanian all-time money list.
His deep understanding of the poker community helps refine and enhance the LetsPoker experience for both players and organizers.
Ready to Transform Your Poker Room?
With years of experience working closely with poker clubs, we understand the importance of connecting with players and driving event attendance.
At LetsPoker, our innovative platform is designed to boost player engagement and amplify your poker room's success.
Try LetsPoker risk-free with our 30-day money back guarantee. We're confident you'll love it! No one has ever had to use it.
Fill out the form and we'll be in touch to schedule a free consultation and demo of our platform.
Powering Leading Live Poker Organizers